Sensitive Skin Savior: How Aha Deodorant Provides Gentle Care for Delicate Skin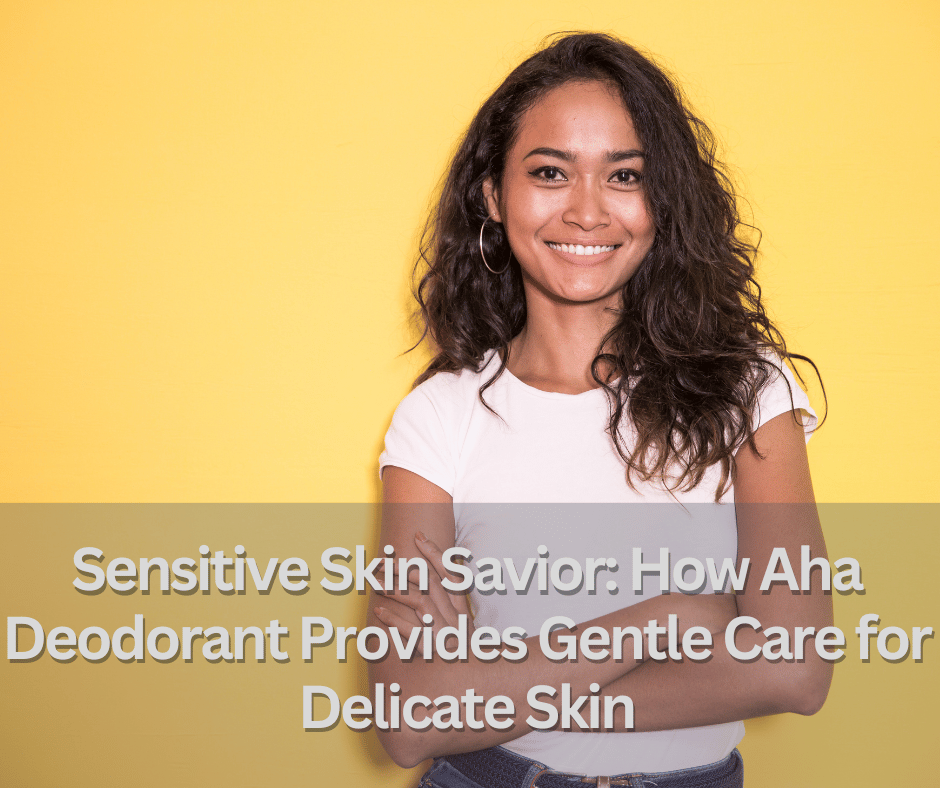 When it comes to personal care, finding the perfect deodorant for sensitive skin can be a real challenge. The wrong product can cause irritation, redness, and discomfort, making the quest for an effective yet gentle deodorant all the more important. Enter Alpha Hydroxy Acid (AHA) Deodorant, specifically formulated with sensitive skin in mind, and touted as a true skin savior.
In this blog post, we will explore the wonders of AHA Deodorant and how it provides gentle care for delicate skin, ensuring you can stay fresh and confident without the worry of irritation.
Understanding AHA Deodorant: What Sets It Apart
AHA Deodorant is not just any ordinary deodorant; it's a revolutionary serum-based formula designed to keep you feeling fresh all day long. Packed with natural ingredients and free from harmful chemicals, Aha Deodorant aims to protect and nourish sensitive underarm skin while effectively fighting odor and wetness.
Key Features of AHA Deodorant:
AHA Serum Deodorant: At the heart of this exceptional product lies the AHA serum, which stands for Alpha Hydroxy Acid. This powerful compound gently exfoliates the skin, unclogging pores, optimizing pH and reducing the likelihood of irritation.

Kosas Chemistry: One of the first AHA deodorants was developed by Kosas, a renowned brand known for its clean and skin-friendly formulations. Their Chemistry concept ensures products are balanced, safe, and work harmoniously with the skin's natural processes.

Stainky's Pit Prep: A newcomer, focused on the highest quality ingredients at an affordable price, Stainky's Pit Prep technology ensures that the formula doesn't leave any unwanted stains or residue on clothing, even when applied generously. It's so gentle it can be used anywhere on the body, including the face and genitals. 
The Gentle Care Approach: Why Aha Deodorant Works for Sensitive Skin
Free from Harsh Chemicals: AHA Deodorant is devoid of potentially irritating ingredients such as aluminum, parabens, and synthetic fragrances. Instead, it harnesses the power of natural components to maintain skin health.

Hypoallergenic Formulation: Both Kosas AHA Deodorant and Stainky's Pit Prep are dermatologist-tested deodorants, and hypoallergenic, making them suitable for those with sensitive skin prone to allergies or adverse reactions.

Skin Nourishment: The inclusion of soothing ingredients like aloe vera, chamomile, and glycerin helps nourish and calm delicate underarm skin.

Non-Greasy Application: AHA Deodorants feel clean, and leave no greasy residue, which is essential for sensitive skin that can be easily irritated by heavy textures.
Real-Life Success Stories: Customers Rave About AHA Deodorant
Don't just take our word for it! Satisfied customers have shared their experiences with Stainky's AHA Deodorant and Armpit Primer:
"Have to say, miracle in a small bottle. Works very well. Def Recommend it!" - GG
"It's rare I find a product that I truly love, and purchase multiple bottles within a couple months, yet Stainky's Pit Prep won me over.
As a fellow badass female entrepreneur, I see you, Caitlin + Erin. Thank you for bridging the gap between natural products and natural products that actually work.

And it's true, continued use is where you see results. So, to the newbie pit-preppers out there, get a couple bottles to start, and be consistent with it. Exfoliating and/or shaving (if that's your jam) is super helpful too, just like Stainky's says.

xo Brooke" - Brooke S. 
Conclusion
Sensitive skin can be temperamental, but that doesn't mean you have to compromise on finding the perfect deodorant. With AHA Deodorant's innovative AHA formula, you can now enjoy fresh and confident underarms without worrying about irritation or discomfort.
Embrace gentle care with AHA Deodorant and unlock a new level of freshness and comfort for your delicate skin. Take the leap and experience the skin savior that so many users already adore!