Lume Deodorant Ingredients vs Kosas Deodorant vs Stainky's Pit Prep - 3 interesting takeaways.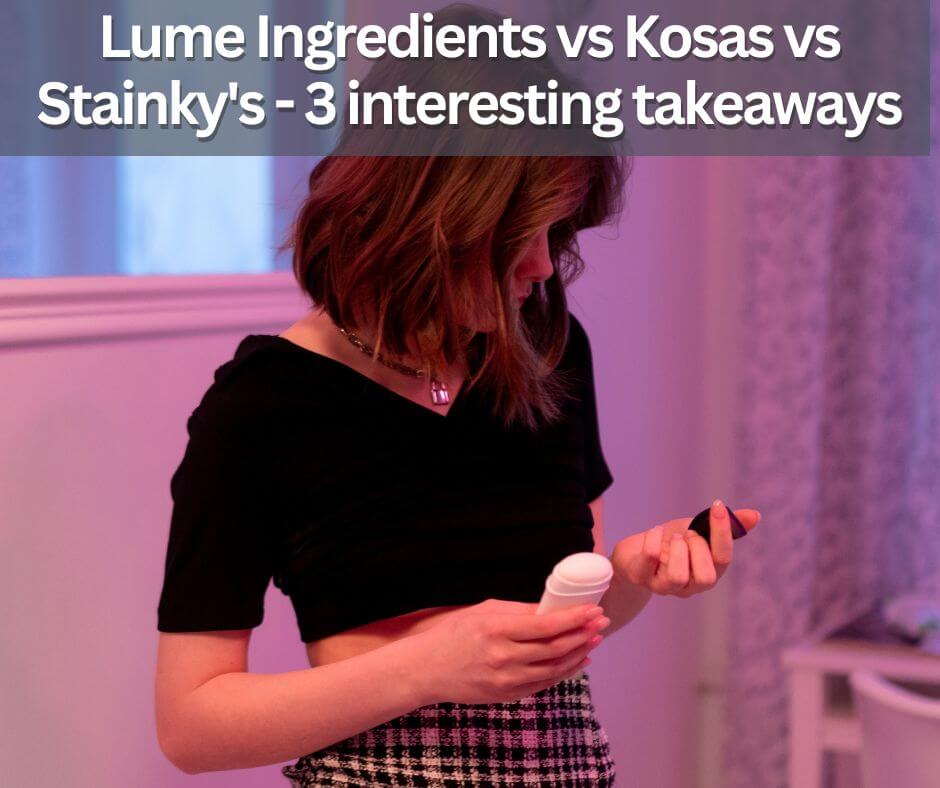 In this post, we're taking a deep dive into the ingredients that make AHA Deodorants so effective. We'll look at Lume Ingredients, as well as 2 other leading AHA Deodorants, and break down the pros and cons of each formulation. 
All 3 companies looking are female owned and operated, with publicly stated goals around sustainability and fair employment practices. The formulations are different – we'll look at a cream, a serum, and a spray – yet the active ingredients are similar across all 3.  
Great companies offering great AHA Deodorants. So how do we choose the best one? Let's dive in. 
Table of Contents
Lume, Cream Deodorant Tube
Price: $19.99
Size: 3oz /85g
Price per Ounce: $6.66
Lume Ingredients:
Water

Mandelic Acid

Maranta Arundinacea Root Powder

Tapioca Starch 

Isoamyl Laurate

Hydroxypropyl Starch Phosphate

Cetearyl Alcohol

Caffeine

Caprylic/Capric Triglyceride

Behenyl Alcohol

Hydrogenated Castor Oil

Fragrance*

Aloe Barbadensis Leaf Juice

Theobroma Cacao (Cocoa) Seed Butter

Floral Pyranol

Tocopherol

Allantoin

Panthenol

Sandalrome

Stearyl Alcohol

Dimethicone

Cetearyl Glucoside

Pentylene Glycol

Phenylpropanol

Potassium Hydroxide

Dipropylene Glycol

Sodium Benzoate

Tetrasodium Glutamate Diacetate

*Scented products only
Lume Review
Lume ingredients are fairly high quality and skin friendly. Lume was the first AHA Deodorant brand to go mainstream, and their products set a high bar for the effectiveness people should expect from a natural deodorant. Their products come in creams that you apply with your fingers, as well as push up deodorant tubes.
That said, better is possible, and there are a few things that could be improved about Lume ingredients. First up – the main ingredient is water. This means those great AHA's could be highly diluted. It's hard to tell how much of the product is actually composed of AHAs or other active ingredients, versus expensive water. 
Second, while Lume ingredients only include fragrance in their scented versions, this is definitely a synthetic ingredient and not the healthiest or cleanest way to craft a scented product. 
And lastly, while Lume ingredients are effective, they are not organic and therefore not as high quality as they could be. It's easy to source organic versions of several of the ingredients, like aloe, mandelic acid, tapioca starch. 
Of course, there's a cost associated with organic ingredients, but at $19.99 for 3 oz, it's reasonable to expect the highest quality.
Kosas Chemistry Deodorant Ingredients, Serene Clean Scent 
Price: $16
Size: 70 ml/ 2.4 fl oz 
Price per Ounce: $6.66
Kosas Ingredients:
Aqua

Aloe Barbadensis Leaf Juice

Glycerin

Mandelic Acid

Polyglyceryl-4 Cocoate

Sodium Hydroxide

Shikimic Acid

Lactic Acid

Palmitoyl Tripeptide-5

Hyaluronic Acid

Citric Acid

Tartaric Acid

Xanthan Gum

Potassium Sorbate

Sodium Benzoate

Cananga Odorata Flower (Ylang Ylang) Oil

Citrus Aurantium Amara (Bitter Orange) Flower Oil

Citrus Paradisi Peel Oil

Simmondsia Chinensis Seed (Jojoba) Oil

Benzyl Benzoate

Limonene 

Linalool 
KOSA'S REVIEW: 
Kosa's serum deodorant is a solid product that comes in a serum formulation with a roller ball inside a plastic tube. It's a thin liquid consistency and dries fairly quickly with no residue.
The active ingredients include a blend of several AHA's, including Mandelic, Shakimic, and Lactic acids. These are definitely the key to its effectiveness. However, the first ingredient in Kosa's deodorant is water. Just like with Lume ingredients, this means those great AHA's could be highly diluted, and again, you're paying for water. 
Another plus is the glycerin and hyaluronic acid – both moisture boosters that help to maintain a healthy skin barrier. Additionally, the scent in this deodorant is composed of essential oils, rather than synthetic fragrances, making it higher quality and super skin friendly. 
However, while many of the ingredients are a step up quality-wise from Lume ingredients, there are still no organically sourced ingredients. And again, at this price point, and given the brand's focus on sustainability, it's reasonable to expect organically sourced ingredients wherever possible. 
Other than having water as a first ingredient and some lesser quality ingredients, the biggest con to this deodorant is the presence of – Benzyl Benzoate. This is a preservative that causes allergies and contact dermatitis for many people. There have been some reports of rashes when using this product, and while some attribute that to the AHA's, our guess is that it Benzyl Benzoate is the culprit. 
Stainky's Pit Prep Ingredients, Fragrance Free:
 
Price: $15
Size: 97ml/ 3.3 fl oz 
Price per Ounce: $4.55
Stainky's Ingredients: 
Organic Aloe Leaf Juice

Glycerin

Phenoxyethanol

Organic Sugar Cane Extract

Organic Bilberry Fruit Extract

Organic Sugar Maple Extract

Organic Orange Peel Extract

Organic Lemon Peel Extract

Organic Cranberry Fruit Extract

Malic Acid

Tartaric Acid

Glycolic Acid

Lactic Acid

Citric Acid

Organic White Willow Bark Extract

Tea Tree Leaf Oil

Polysorbate 20

Organic Alcohol

Tetrasodium Glutamate Diacetate
STAINKY'S REVIEW: 
Stainky's Pit Prep is a spray on formula meant to be used just after showering. It's very light and dries within seconds. It can be used on its own as a fragrance free deodorant, or as an armpit primer to increase the effectiveness of other deodorants you already own.
Stainky's includes more product in the bottle than either Lume ingredients or Kosas ingredients. So even though the price per bottle is similar, the cost is actually a full $2.11 less per ounce. 
And then there's what you get for your money. Water is not an ingredient in Stainky's Pit Prep. In fact, Pit Prep includes zero unnecessary fillers. The first ingredient is undiluted organic aloe leaf juice, which makes it extra soothing and moisturizing.
Secondly, wherever possible, ingredients are organically sourced. Over 80% of the ingredients in Pit Prep are organic, and of the highest possible quality. This means you're getting top of the line skin care with no corner cutting, and all for less money. 
The preservative used in Stainky's Pit Prep is Phenoxyethanol, a synthetic version of a natural compound found in nature, specifically in green tea and chicory. It's a gentle ingredient with a long history of safe use in skincare, especially for products intended for the face. 
OVERALL FINDINGS
So what did we learn from researching these competing products? Three main takeaways: 
There are only 2 ingredients that all 3 AHA deodorants have in common. Aloe Leaf Juice and Mandelic Acid.

Mandelic Acid is an AHA derived from almonds

. It's great in deodorants because its large particle size helps it sit on top of the skin for longer before being absorbed. This helps it effectively eliminate bacteria hiding out on the very surface of your armpit skin and hair. All 3 brands have zeroed in on the science behind including this particular AHA for maximum effectiveness. 

Fragrance is an essential component of Lume and Kosas, which are both meant to be used as stand alone products. Stainky's on the other hand is fragrance free. It works well on its own, but can also be used as a toner to increase the effectiveness of other natural deodorants. Or to give you a clean, unscented slate, perfect for when you want to wear your favorite perfume or cologne, or for those days when you want to smell like nothing at all. It's clear that customers want options, so look for scented versions of Stainky's Pit Prep in the future. 

Stainky's Pit Prep is a bargain compared to the other two brands. It uses the same AHA technology as the bigger brands, but with higher quality ingredients, including 80% organic ingredients. Not only that, but you get more product for less money. 
CONCLUSION
Overall, we're glad to see the science of AHA Deodorants going mainstream, with more options for consumers looking to eliminate external body odor without the use of aluminum. Natural deodorant that actually works? Yes please. 
What do you think? Observations we're missing? Are there other AHA Deodorants we should review? Let us know in the comments. 
Cheers!
Caitlin Stainken